VOTED #1 BEST PRIVATE SCHOOL FOR THE 3RD YEAR

THANK YOU to the cobb county COMMUNITY and our school family!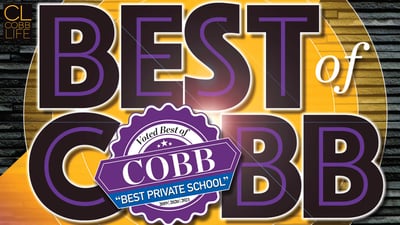 Thank you to our entire MPCS family and the metro Atlanta community for voting us the "Best Private School" in Cobb county for the THIRD year in a row! We are humbled and blessed by your votes for the Marietta Daily Journal / Cobb Life Magazine 2019, 2020, and 2021 honors in the Kids and Education category.
Not only did you vote us the "Best Private School," but you also gave MPCS back-to-back honors for "Best Preschool," "Best Performing Arts Program," and one of Cobb's "Best Teacher - Lyn Bennett (PK3)."
And even more impressive, MPCS also achieved a third consecutive "Best of the Best" #1 title, receiving the MOST VOTES of ANY category in the entire competition. Wow! Be sure to check out the 2021 April edition Cobb Life Magazine to read why we achieved the #1 status as well as details on the best private school accolades. Our school could not do what we do without our incredible students, parents, grandparents, alumni, community, and supporters! As they all feel it every day, MPCS is family. Thank you!
WHO is MPCS?
Mount Paran Christian School is a PreK3-12th grade private Christian, non-denominational, college-preparatory school. Founded in 1976, MPCS is fully accredited (SAIS/Cognia/CESA) and located in near Kennesaw Mountain on a 68-acre collegiate-like campus. MPCS is committed to excellence in academics, award-winning arts, and championship athletics all within a Christian environment.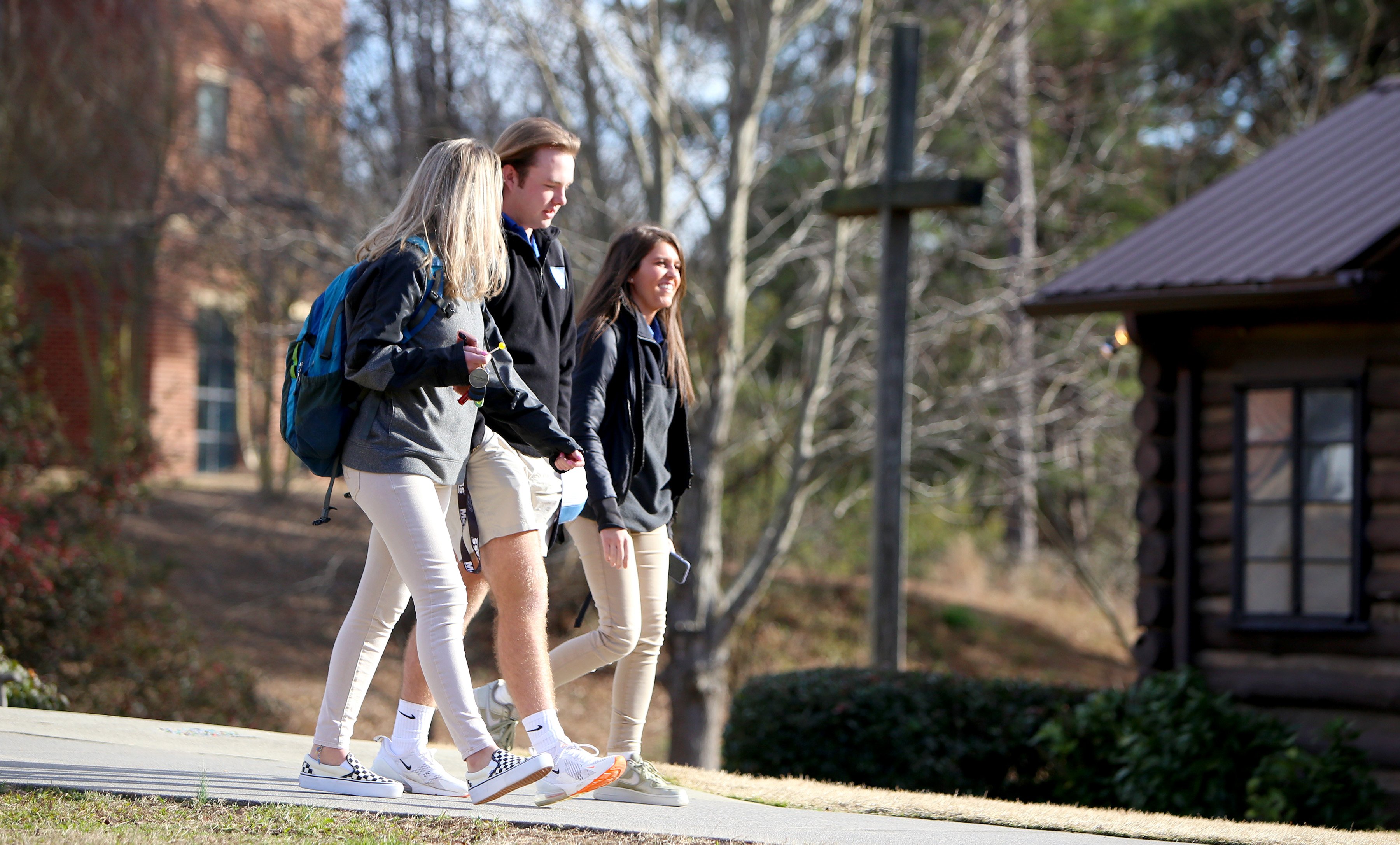 WHY WE are VOTED THE BEST
Students are given every opportunity to excel in the classroom with small student-teacher ratios (average 12:1) and challenging course loads. More than 56 AP and honors classes are offered in addition to STEAM (PreK-12th), Project Lead the Way® (AP-calibre engineering curriculum), a gifted program, Homeschool Hybrid, instructional support programs for mild dyslexia and learning differences, State championship robotics, vast exploratories/electives, and a 1:1 device program in middle and high school. MPCS boasts a higher percentage of AP scholars (students scoring a 3 or higher on AP exams) than other private or public schools in Cobb county. Of MPCS graduates, 100% are accepted into college and attend schools such as Columbia, Georgia Tech, Georgia (average 26% of each class accepted), Gordon, Harvard, M.I.T., UCLA, Vanderbilt, and all US military academies.
In addition, MPCS plans to break ground on the $12M Murray Innovation Center addition to the high school this summer which will be equipped with maker space, fabrication labs, digital-theatre, coffee shop and more!

Athletics are a school-wide affair, uniting the preschool, lower, middle, and high school with a common sense of belonging. Even our three-year-olds know they're Eagles from day one. Fifty-four teams represent 16 different sports beginning in the fifth grade, including a fishing team! Middle school alone boasts 25 championships with varsity recently winning 24 State titles in swim, track, football, golf, volleyball, and (8-time) competition cheer. On average, 16% of student-athletes sign to play at the collegiate level. Our athletes serve every day as role models to younger students through Christian Life mentor programs.
Inside Mount Paran Christian School's state-of-the-art Murray Arts Center, students age three and up are equipped with the skills to nurture their God-given abilities. Our Arts programs have received the highest calibre recognition in all areas including Governor's Honors, All-State, and Shuler Hensley awards. These highly valued programs include chapel band, orchestra, marching band, chorus, vocal ensembles, dance, drama, technical theater, visual arts, recording arts, graphic design, photography, and musical theater. The Dozier School of the Arts magnet program gives select students opportunities for intensive curricular study in their talent-area to facilitate growth and the potential to perform at the next level. MPCS also provides curricular arts classes and after-school music/dance lessons.

MPCS students experience God and grow in their faith through worship, in service, in missions, and in discipleship. Everything we do is within the context of faith. Students at every grade level are provided weekly opportunities to practice their faith through chapel worship, prayer, and Bible classes. Biblical integration happens throughout all academic classes to bolster faith and student mentorships.

Uncompromising academics is in no way sacrificed due to our Christian faith; nowhere in Scripture is mediocrity applauded. However, our unwavering commitment to exemplary academics goes hand-in-hand with developing servant-leaders who honor God, love others, and walk in Truth.
Mount Paran Christian School provides exemplary PK3-12 academics in small classes with Christ at the center. Our job is to prepare servant-leaders — in the classroom, on the ball field, on the stage, and ultimately in our community. This is our highest priority, as it is yours. Learn more about the difference a Mount Paran Christian School education can make for your child.
Click to watch the video above and experience family at MPCS.
We invite you to experience MPCS at a TUESDAY TOUR or OPEN HOUSE! Sign up in the right column.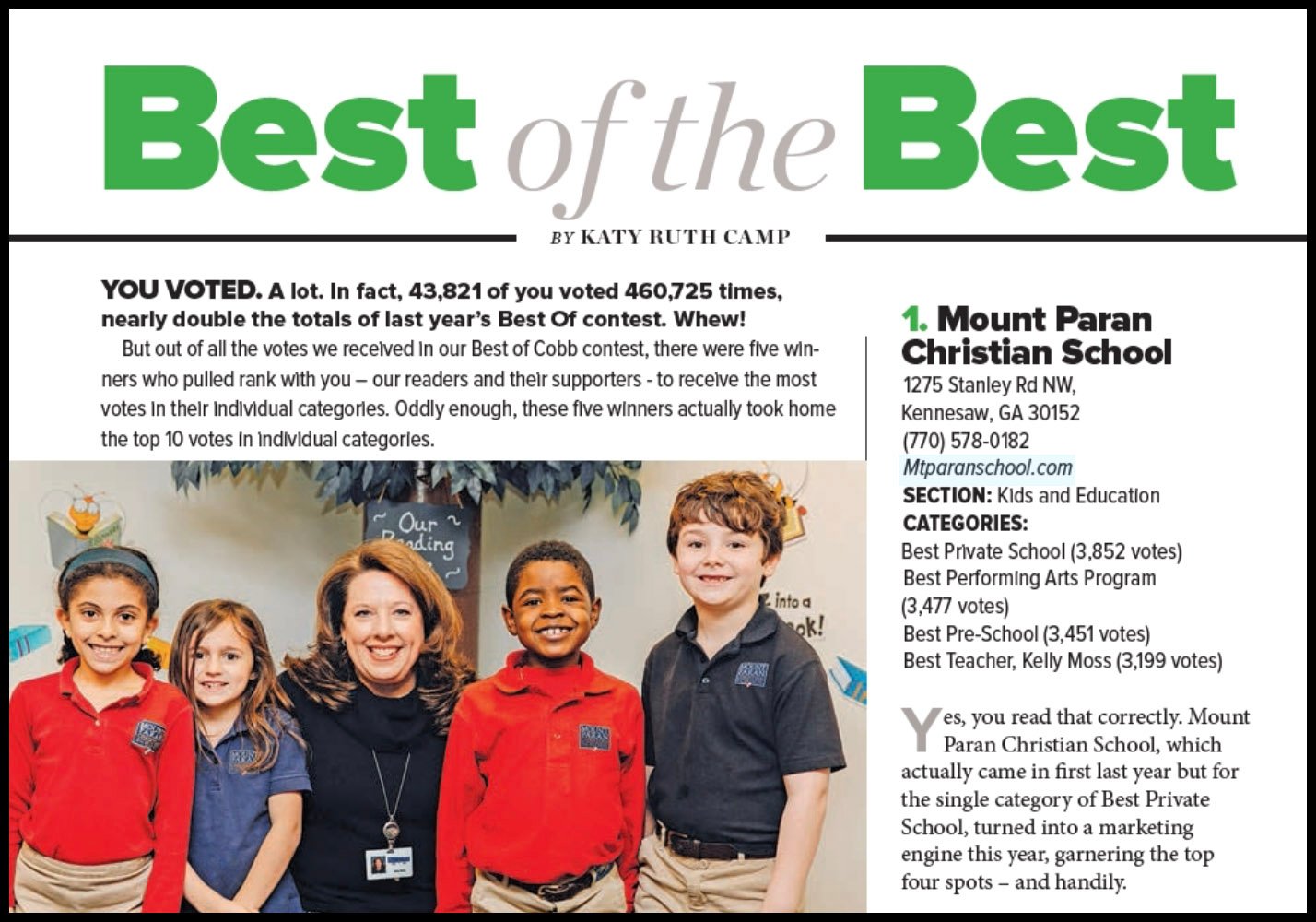 #1 "BEST OF THE BEST"
CLICK HERE to read about the top five in the "Best of the Best" category of the Best of Cobb where MPCS earned the most votes overall in all categories.
CLICK HERE to read the "Best of Cobb" issue of Cobb Life Magazine.
---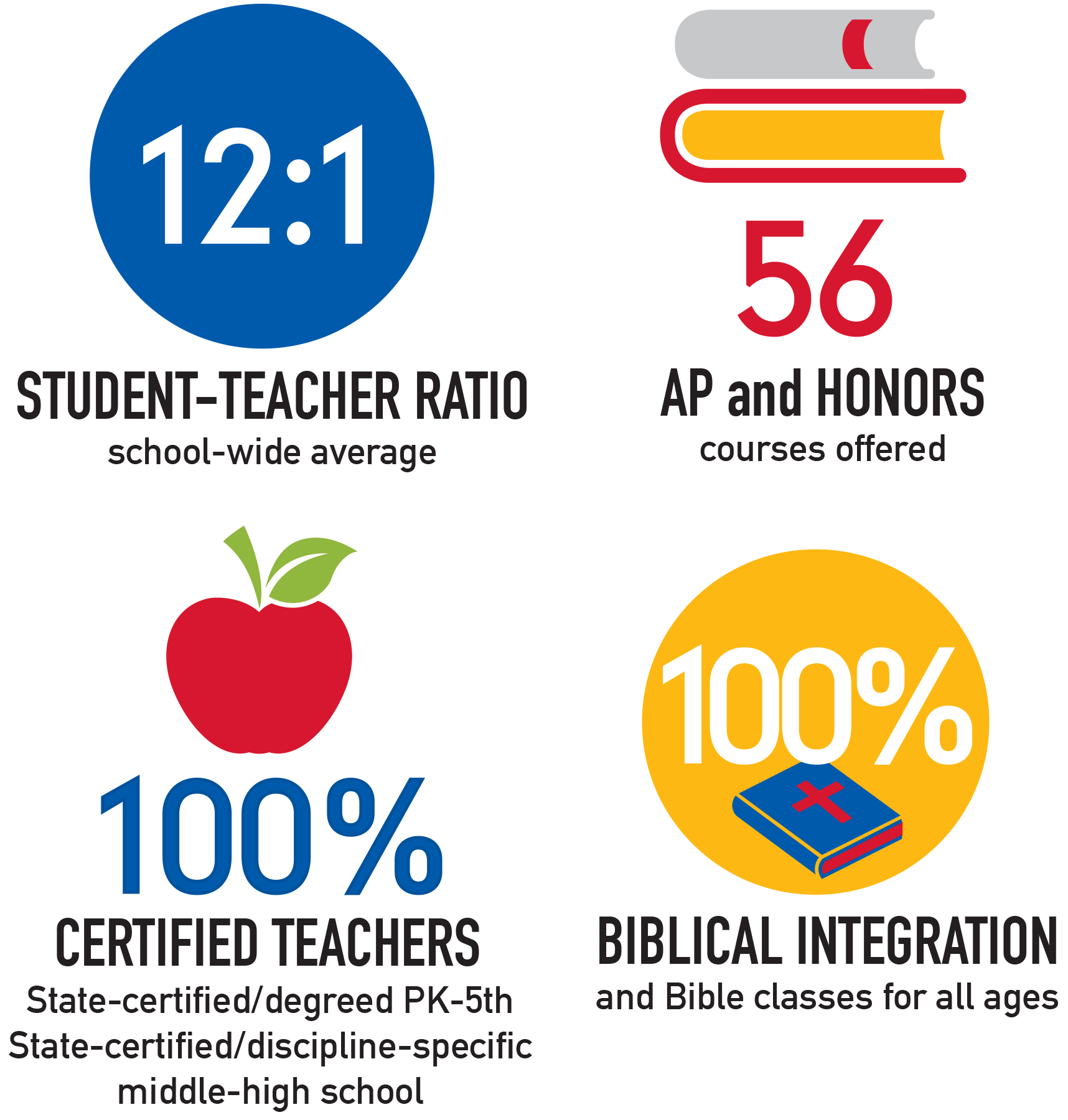 ---
The "Other" Happiest Place on Earth - MPCS' "Best Preschool"
There is no doubt for anyone who has stepped foot inside the Sewell Cottage that there is something special truly happening. Joy comes from preschool children heard laughing, playing, learning, and praising God. From STEAM, writing, centers, math, Spanish, and chapel, our youngest Eagles are having the time of their lives. Click here to learn more about why MPCS won "Best Preschool" honors.
---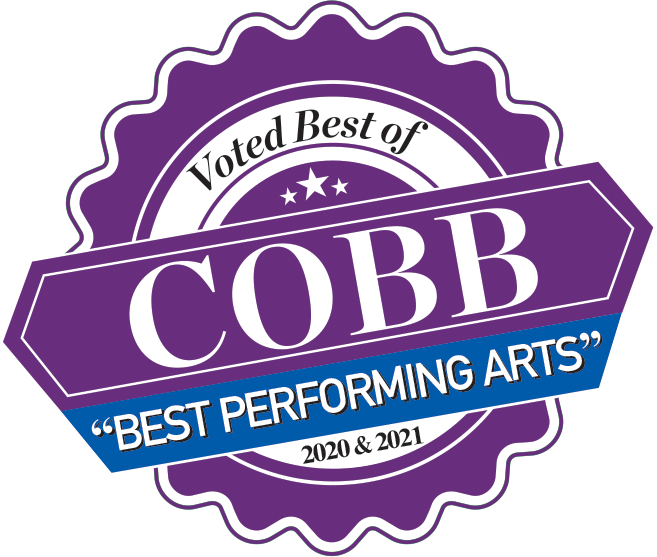 AWARD-WINNING ARTS PROGrAMS now leading the way
Performing and visual arts at MPCS takes place in the absolutely fantastic Murray Arts Center - a cornerstone facility on campus. In addition to the magnet program offered in curricular arts, dramatic and musical theatre productions have won more Shuler-Hensley awards and more nominations than any other private school in Cobb county. No wonder Mount Paran Christian School arts programs were voted #1 in 2020. Click here to learn more.
---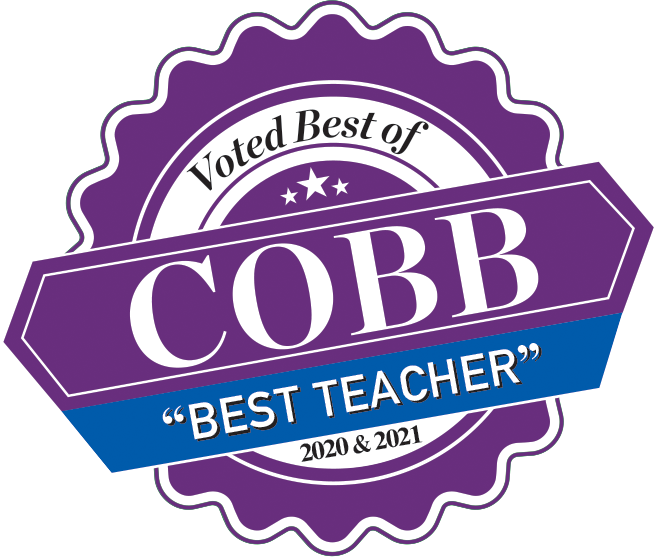 Congratulations Mrs. Kelly Moss (Grade 1) and Mrs. Lyn Bennett (PK3) - voted "best teacherS" in Cobb
There's no denying the intelligence, patience, and gift for teaching that Mrs. Kelly Moss exhibits in the classroom. Her first-grade students are at the top of their game thanks to her creative instruction and gentle expectations. She is among many state-certified, expert faculty who are career early-childhood educators, and love God and nurture students. Click here to find out more about MPCS lower school and why Mrs. Moss is in great company.
This year, PreK3 teacher Mrs. Lyn Bennett was also voted one of Cobb's best teachers. It's no wonder why the MPCS preschool is #1 with veteran teachers like Mrs. Bennett in the Sewell Cottage. In her 16th year at MPCS, she is a career early-childhood educator, degreed in that field and completing her Master's in Educational Leadership. She has also been awarded the prestigious GISA Master Teacher honors. But it's not those accolades that make her special — it's the kind and gentle way she teaches her students to learn, interact, and love the Lord.
---
you're invited to visit our campus!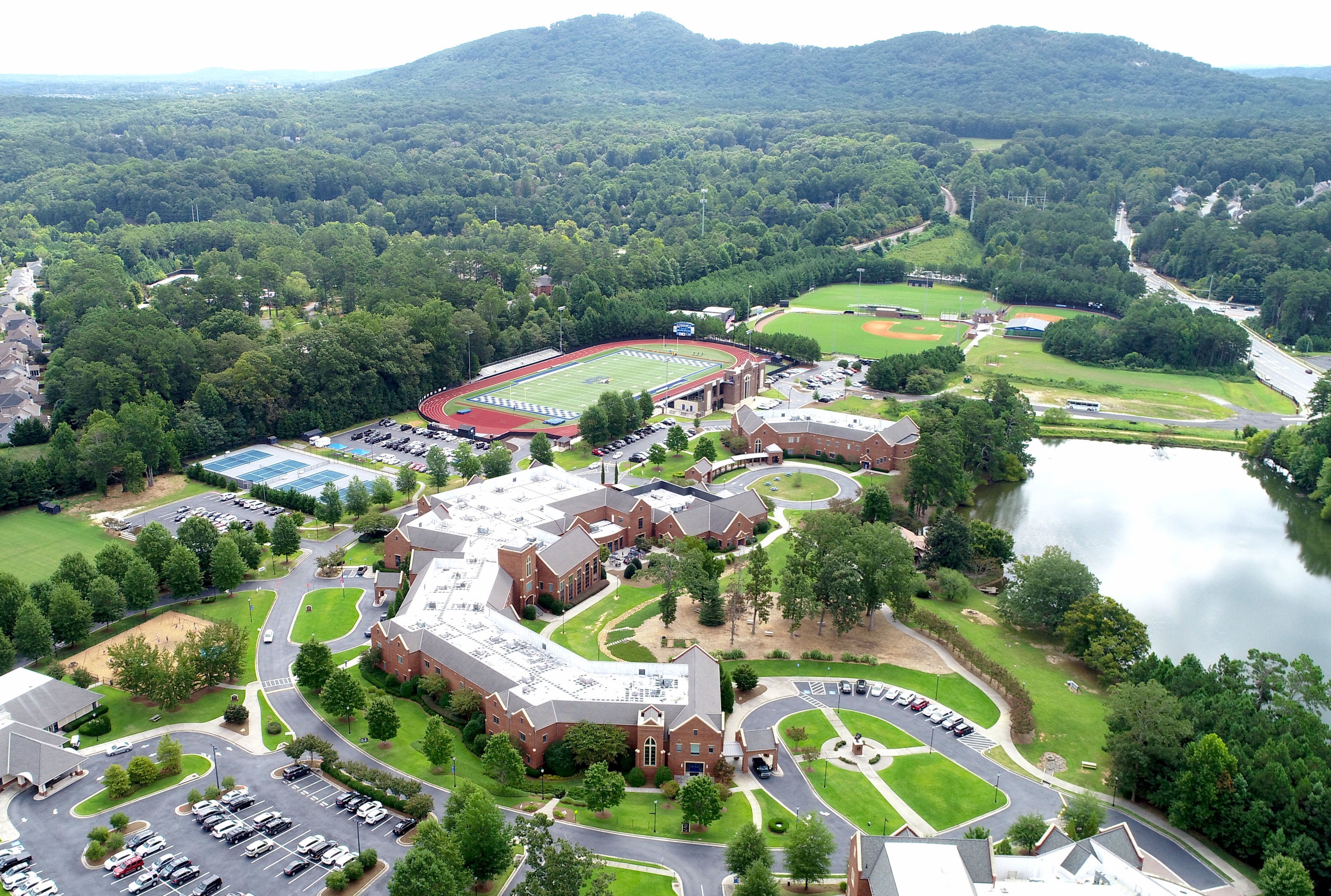 We would love to meet you at an upcoming tour of our 68-acre campus! We are offering Weekly Wednesday Tours with limited groups. Please RSVP below and we will be in touch with you soon. Thank you!
---