ParentEd. Talks
Partnering with Parents in Raising Phenomenal Kids
Raising kids of great character who are academically prepared with a solid biblical foundation takes intentionality and focus. As an important part of our school mission, Mount Paran Christian School partners with home and church in the total education of your children. Our purpose is to help you guide your children in their Christian faith and moral foundation. MPCS is committed to providing families with great parenting resources and tips to help overcome obstacles as children grow through different stages. We also explore many trends and topics that are influencing young children and teens in today's culture.
We are pleased to announce the dates for this year's ParentEd. seminars and "Ted"-style talks listed below. Please mark your calendars for any or all seminars that you might find beneficial. All MPCS parents, neighbors, and friends in the community are invited to attend!
---
2020 SPRING ParentEd. TALKS:
"Parenting Playbook" Series - by Lisa Corcoran, author of The Parenting Playbook
JANUARY 16 | Session 1 | 6:00 p.m. | MPCS Campus
JANUARY 23 | Session 2 | 6:30 p.m. | MPCS Campus
FEBRUARY 6 | Session 3 | 6:30 p.m. | MPCS Campus
FEBRUARY 13 | Session 4 | 6:30 p.m. | MPCS Campus

Do you ever wish that you had a parenting manual to help you navigate the journey? Join us for a four-part series of parenting discussions with Lisa Corcoran, author of the Parenting Playbook. Lisa will be with us on January 16 to kick-off the conversation on life-changing parenting tips to bring peace and harmony to your home. Parents are encouraged to attend all four dates of the series, as each session will cover a different topic. Please mark your calendar, and plan to join us in the Weber Collaboratory on January 16, January 23, February 6, and February 13. These sessions are targeted especially to parents of younger children but are open to all who are interested. With advance registration, childcare is provided for each session. Simply let us know you will attend by using the form to the right.
---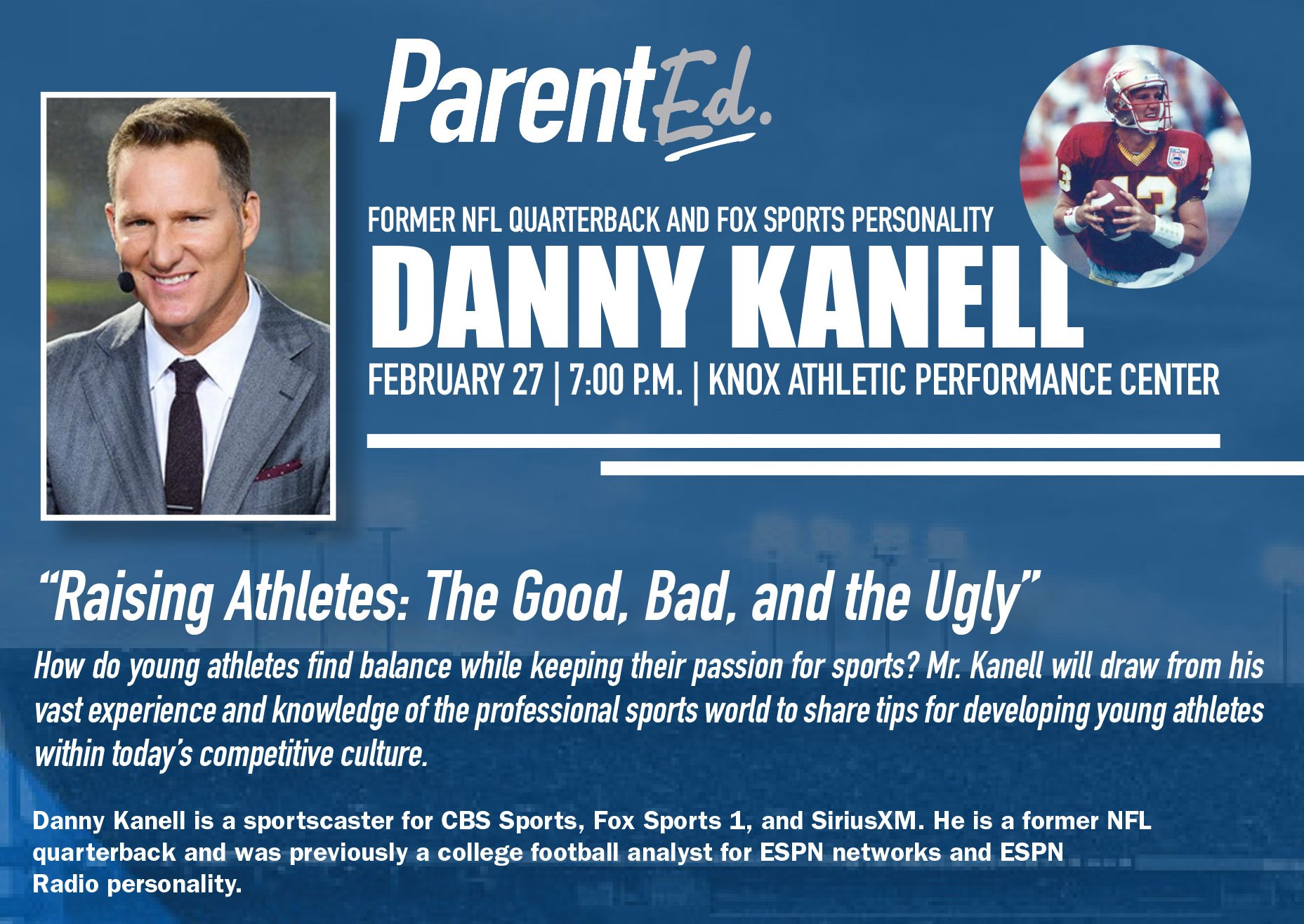 "Raising Athletes: The Good, Bad, and the Ugly" - by Danny Kanell, CBS/Fox Sports Analyst and Former NFL Pro Quarterback
FEBRUARY 27 | 7:00 p.m. | MPCS Knox Athletic Performance Center - *PLEASE RSVP on the right
How do young athletes find balance while keeping their passion for sports? Mr. Kanell will draw from his vast experience and knowledge of the professional sports world to share tips for developing young athletes within today's competitive culture.
Danny Kanell is a sportscaster for CBS Sports, Fox Sports 1, and SiriusXM. Mr. Kanell is a former NFL quarterback and was previously a college football analyst for ESPN networks and ESPN Radio personality.
Mr. Kanell's athletic expertise spans both the collegiate and professional level in multiple sports. Though he was drafted in high school by the Milwaukee Brewers in the 19th round, he decided to further his education at Florida State University. While in college at Florida State University, Mr. Kanell led the Seminoles to Sugar Bowl and Orange Bowl victories as quarterback. He was selected as the 1995 ACC Player of the Year and the National Football Foundation and College Hall of Fame Scholar Athlete. Mr. Kanell was inducted into the Florida State Hall of Fame in 2012. While at FSU, he also played baseball for the Seminoles and was again drafted for baseball, this time by the New York Yankees in the 25th round. Ultimately, he chose to sign with the NFL's New York Giants when he was drafted in 1996. Mr. Kanell made his NFL debut later that season, leading the Giants to the NFC Eastern Division title. He also played for the Atlanta Falcons and the Denver Broncos until 2004.
After his pro football career, Mr. Kanell became the host of ESPNU's UNITE and served as color analyst for Friday Night college football games and college baseball, called the ABC Saturday afternoon college games. He later became the co-host of the Russillo and Kanell show on ESPN. Mr. Kanell then joined Fox Sports 1 as a college football analyst. He is also the host of Dog Day Sports with Steve Torre on Mad Dog Sports Radio, SiriusXM channel 82. He resides in Florida with his wife and three daughters.
---
"Raising Teen Boys" - by Jocelyn Sotomayor, MPCS Middle School Guidance Counselor
FEBRUARY/MARCH: Five (5) Morning Sessions | 8:10-9:30 a.m. | MPCS middle school counseling office
FEBRUARY 27 | Session 1 | Protecting my sanity while raising my son
MARCH 5 | Session 2 | Normal vs. abnormal teenage boy behaviors
MARCH 12 | Session 3 | The Power Struggle between mothers and sons
MARCH 19 | Session 4 | Technology and the boy's brain
MARCH 26 | Session 5 | Supporting each other during the teenage years
---
GENZ GRIT - A Necessary Trait for Independence" - by Steve Robertson
MARCH 19 | 6:30 p.m. | MPCS Weber Collaboratory
Steve Robertson is an author and expert on Gen Z and speaks on a variety topics from social media to parenting this new generation. He has been featured in Inc., Forbes, and Entrepreneur magazines. In order to fully understand and positively impact children, parents need to view this generation through a new lens. Gen Z kids are overwhelmed with a constant barrage of information and are the first digital natives, yet they struggle to navigate the pressures of social media. Mr. Robertson will equip parents with practical tools to help children filter digital influence as well as strategies to develop GRIT to later thrive once independent.
---
"Parenting in a Tech World" - by Tina Baker, Directed Studies Teacher and Robotics Coach, and Randi Terry, Academic Technology Specialist and Robotics Coach
April 22 | 9:00 a.m. | MPCS Weber Collaboratory
---
ParentEd. BLOG RECAPS:
Get to Know MPCS
Mount Paran Christian School is a preschool age three through grade 12 private Christian, non-denominational, college-preparatory school. MPCS is committed to excellence in academics, award-winning arts, and championship athletics all within a Christian environment and small class sizes. Founded in 1976, MPCS is fully accredited (SAIS/AdvancED) and located near Kennesaw Mountain on a 68-acre collegiate-like campus.
MPCS is proud to offer the ParentEd. series to our families and our community. Events are sponsored by our Guidance Counseling and College Counseling departments in preschool through high school.
We also invite you to tour our campus at a Weekly Wednesday Tour at 10:00 a.m. each week. Click here to RSVP to visit.

Join us for a ParentEd. Talk
Please let us know you'll attend!
All ParentEd. seminars are free and open to the community. Please let us know if you plan to attend.

Seminar Locations:

Mount Paran Christian School
1275 Stanley Road, Kennesaw, GA 30152
770-578-0182


MPCS Murray Arts Center
Kristi Lynn Theatre (2nd floor)
Choral Rehearsal Room (1st floor)
Enter main gate off Stanley Road and take an immediate right for parking at the 3-story arts building.
MPCS Weber Collaboratory
Mulkey Building
Enter main gate and turn to the left. Park and enter main building near flag pole and front office. Follow through doors and up one flight of steps. Walk straight ahead and Weber Collaboratory is on the right.


MPCS Knox Athletic Performance Center
Adjacent to Baseball Field
Enter main gate and turn to the left. Follow Tilly Trail around past the football stadium and park in the back of the lot, closest to baseball field. The Knox Athletic Performance Center (weight-room and training facility) is down the drive to your left.
MPCS Preschool
Sewell Cottage
Enter main gate and turn to the left. Park in the left hand parking lot and enter the preschool building between the playgrounds.
MPCS Murray Arts Center, Choral Rehearsal Room
Enter main gate and follow straight. Turn right and curve around to the right to the back of the Murray Arts Center building. Park and enter through the bottom floor rear entrance. The Choral Rehearsal Room is located inside and to the left.